We'd both had a rough day and stood around the kitchen playing the monotonous game of "What Do You Want for Dinner?" when I suggested Shrimp Pasta because we had some in the freezer. John thought that sounded good, so I started pulling things out of the pantry and went outside to cut some Tarragon and Italian Parsely from our garden. The result is this delicious, perfect-for-summer dish!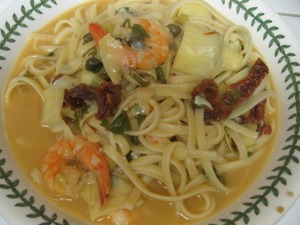 Cook 1 pound of
Linguine
according to package directions – I always use Italian pasta.
In a large sauce pan, sautee:
1/3 Cup Olive Oil
1 Small Bunch Green Onions, sliced
1 teaspoon Garlic, minced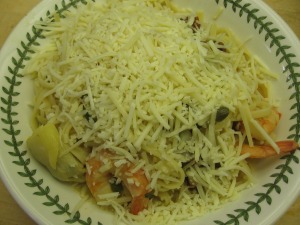 Juice of 1 Lemon
Salt and Pepper to taste
2 Tablespoons Fresh Tarragon
2 Tablespoons Fresh Flat-leaf Parsley, minced
1 can Artichoke Hearts, halved
6 Sundried Tomatoes, sliced
3 Tablespoons Capers
Simmer sauce for about 10 minutes. Pour over Linguine, and top with fresh grated Parmesan Cheese. There is a great debate amoung southern Italians that cheese and seafood do not go together – they say it lends a metallic taste, so it is entirely up to you whether you add cheese. Serve with crusty French Bread.
Classic Banana Bundt Cake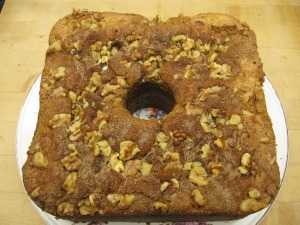 From one of my favorite cookbooks~
Baking From My Home to Yours
, page 190, comes this wonderful alternative to Banana Bread. It's moist and light. I topped it with my signature combination of
Cinnamon Sugar
and Walnuts.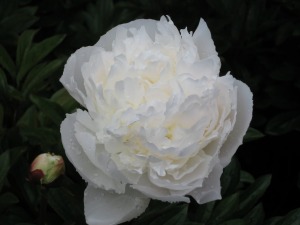 White Peony in the garden of Hotel de Haro, Roche Harbor, San Juan Island, WA.
These recipes are provided for your personal use. If you publish them, or re-post them, please give me credit. Grazie e Buon Appetito!