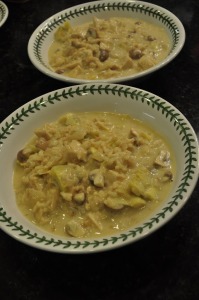 Chicken Marsala Risotto with Smoked Mozzarella
In a deep sauce pan, saute:
3 Tablespoons Olive Oil
2 Cloves Garlic, minced
1 small Onion, diced
When Onions begin to soften, stir in:
1 Cup Arborio Rice
Continue stirring until rice is lightly browned
Add 4 Cups Chicken Broth in 1 Cup increments, stirring until almost completely absorbed in between additions.
Then stir in:
1/2 Cup Marsala Wine
1 Can Artichoke Hearts, halved
8 Ounces Crimini Mushrooms, halved or quartered
2 Cups Cooked Chicken, chopped into bite-sized pieces
Salt and Pepper, to taste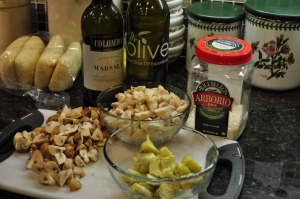 When Marsala is absorbed, and vegetables and chicken are headted through, finish with:
1/4 Cup Cream
8 Ounces Smoked Mozzarella, shredded
Remove from heat and let stand for 5 minutes. Stir before serving.
Clean and cut Broccoli crowns into bite-size pieces.
Place in a small saucepan with about 2 inches of water.
Cover and steam for 10 minutes.
I made these for the Realtor Caravan at the house we're selling, but, of course, we had a few for dessert!
´╗┐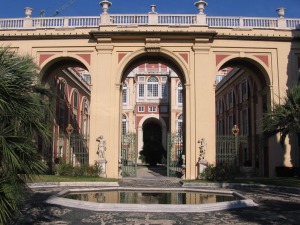 Gardens of Palazzo Reale, Genova, Italia
´╗┐
These recipes are provided for your personal use. If you publish them, or re-post them, please give me credit. Grazie e Buon Appetito!