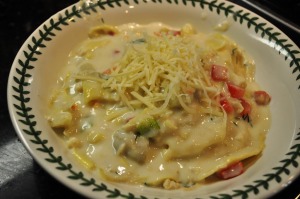 Prepare 1 package fresh Cheese and Spinach Ravioli according to package directions.
In a deep saucepan, saute:
1/4 Cup Butter
1 Clove Garlic, minced
5 Green Onions, sliced
When Onions begin to soften, use a whisk to blend in 3 Tablespoons Flour.
Stir until flour and butter are combined, then add:
3 Cups Milk
1/2 teaspoon each Salt and Pepper
2 teaspoons freshly grated Lemon rind (from one small Lemon)
Continue to whisk until sauce thickens (about 5 minutes), then stir in:
1 can Artichokes, drained and quartered
1 6-ounce can Crabmeat, drained
When sauce is thickened, add:
2 Tablespoons Fresh Dill, minced
1 Tomato, seeded and diced
Stir until heated through.
Strain the Ravioli and add to the sauce pan.
Stir gently to combine.
Top with lots of cheese – we used a 4-cheese Italian blend.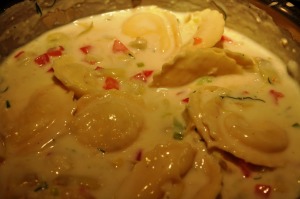 We served this with warm Focaccia bread and Olive Oil and Balsamic Vinegar for dipping.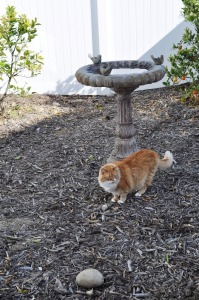 Braveheart explores the garden
Buon Appetito!
These recipes are provided for your personal use. If you publish them, or re-post them, please give me credit. Grazie e Buon Appetito!