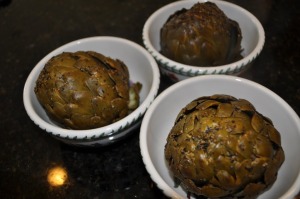 Steamed Artichokes
We love artichokes and they are readily available at this time of year.
Trim the stems from the artichokes and place them in the basket of a steamer.
Sprinkle with lemon juice and Dill Pepper.
Steam for one hour – checking the water level and adding more to make sure it doesn't evaporate.
Serve with melted butter and mayonnaise mixed with lemon juice and a sprinkle of Chili Powder.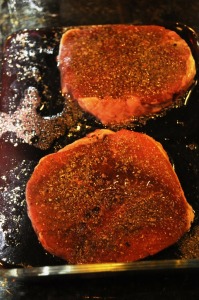 Wine Marinated Eye of Round
This delicious steak take a little preparation to make. The night or morning before you're going to cook it:
Rub Salt. Pepper, and Herbes de Provence into both sides of the steaks.
Place them in a deep container with a lid and pour in half a bottle of red wine.
Turn ever few hours to ensure equal marinating.
Pan-fry in a couple of tablespoons of Olive Oil 5 – 9 minutes per side – according to your desired level of doneness (is that even a word? LOL!)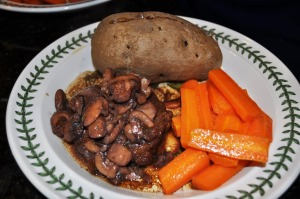 Clean and slice 8 ounces of White Mushrooms.
Melt 3 Tablespoons Butter in a medium saucepan.
Continue stirring for about 8 minutes, then finish with 1/4 cup Sherry.
Add Salt and Pepper to taste and simmer for about 3 minutes.
Clean and peel 6 Carrots.
Cut them into 2-in pieces, then again in half or quarters depending upon thickness.
Steam in an inch of water in a covered pot for 10 minutes.
Strain, and stir in:
3 Tablespoons of Butter
2 Tablespoons Sugar
Salt and Pepper, to taste.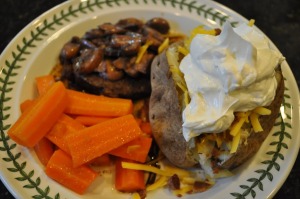 Pierce potatoes with a fork 5 – 6 times.
Wrap in foil individually.
Bake at 350 degrees for 1 1/2 hours.
Top with choice of: Butter, Shredded Cheese, Sour Cream, Bacon Bits, and Chives.
Enjoy!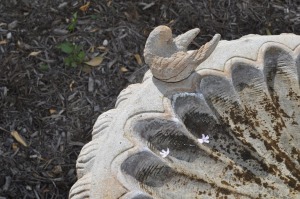 Birdbath with citrus flowers
These recipes are provided for your personal use. If you publish them, or re-post them, please give me credit. Grazie e Buon Appetito!