with Tomatoes and Artichokes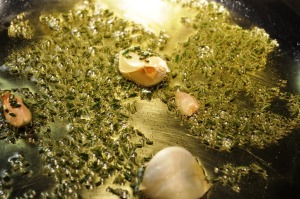 In a large skillet, saute:
1/3 cup Olive Oil
1 Tablespoon Fresh Rosemary, minced (or 1 teaspoon dried)
2 cloves Fresh Garlic with skins on
When garlic begins to soften, remove and discard skins, and smash garlic into Olive Oil
While Garlic is cooking, add to a gallon-size Ziploc bag:
1 Cup Flour
1/2 teaspoon each, salt and pepper
Dredge thin-sliced Chicken Breasts in Flour mixture.
Pan-fry Chicken in scented Olive Oil until lightly browned (about 5 minutes a side)
Pour in 1 Cup Red Wine (we used Beaujolais)
Simmer for about 10 minutes, turning to coat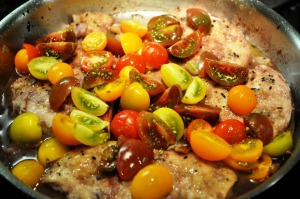 Add about 2 Cups mixed Cherry Tomatoes, halved, or quartered, depending on their size
We had 2 Garlic Roasted Artichokes left, so I cut the meat off the leaves,then cleaned them and diced the hearts – you could also use about 8 frozen, or canned Artichokes
Simmer over medium-low heat until tomatoes soften.
Plate Chicken and spoon sauce over it.
We love rice. This brand is especially delicious. We used the Brown Basmati Wild Rice and Red Rice – it's quick-cooking and really flavorful. We prepared it according to package directions and topped it with about 2 teaspoons of Butter.
Place in a large skillet filled with about 1-inch of water.
Place over medium heat.
Clean one bunch of Asparagus, snapping off the ends.
Squeeze juice of 1/4 Lemon.
Cover with lid and steam for about 15 minutes.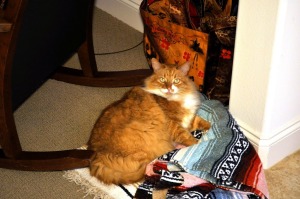 Braveheart claims every blanket he finds!
These recipes are provided for your personal use. If you publish them, or re-post them, please give me credit. Grazie e Buon Appetito!