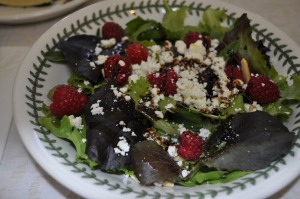 Raspberry and Feta Salad
Line salad bowls with spring greens
Top with:
Fresh Raspberries
Crumbled Feta Cheese
Toasted Slivered Almonds
Drizzle with:
I went to the Ojai Lavender Festival with my friend, Karen, yesterday where we tasted everything
Roberto e Leonardo's Gourmet Blends
had to offer – it was all amazing. These are two of the selections I purchased – you'll see more in the coming weeks.
In a large skillet, sautee:
1/3 Cup Olive Oil
1 Medium Onion, Diced
2 teaspoons minced Garlic
When onions are softened, add:
1 Cup Arborio Rice
Stir until rice starts to brown, then stir in:
4 Cups
Seafood Broth
, 1/2 cup at a time until liquid is absorbed and rice puffs up.
Add:
1 Cup White Wine (we used Viognier)
Salt & Pepper, to taste
Continue cooking until liquid is almost completely absorbed.
Then, stir in:
1 pound cooked Shrimp
1 can Artichoke Hearts, drained and quartered
8 ounces shredded Smoked Mozzarella (we found this at Trader Joe's)
The whole process takes about 1/2 hour. It's important to stir the rice because that's what releases the starch that makes Risotto so creamy.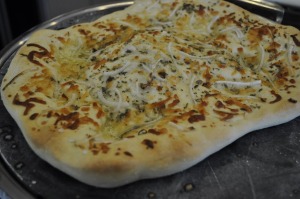 Pre-heat oven to 425 degrees
Scatter some Corn Meal on a Pizza Stone.
Drizzle with Olive Oil
Sprinkle with:
Pizza Seasoning
Sea Salt
Parmesan Cheese
Very thinly sliced Onion
Bake for 20 minutes. Slice & enjoy hot from the oven!
When we were kids in Rome, we'd often grab a piece of Pizza Bianca as a snack fresh from the Forno. Here's a neat story about a
Pizza Bianca tasting venture in Rome
where it originated.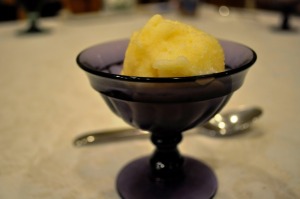 We just bought a Cuisinart ice cream maker and this is our second creation. This fabulously easy recipe comes from David Lebovitz's book, The Perfect Scoop. It is to die for! The flavors of Pineapple and Coconut highlighted with a touch of Rum and Lime are marvelous. And the texture is perfect. It's truly a signature summer dessert! It couldn't be easier or better!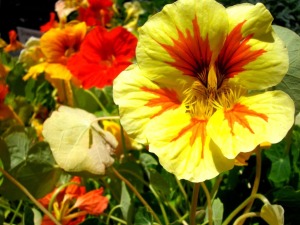 Nasturtiums – photo by my friend, Bill
These recipes are provided for your personal use. If you publish them, or re-post them, please give me credit. Grazie e Buon Appetito!