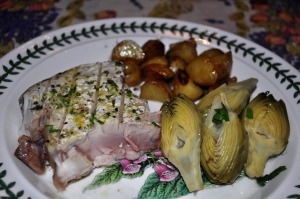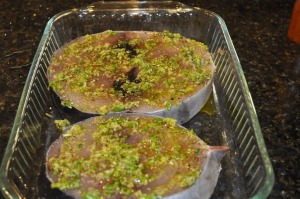 Even though I never watch cooking shows on TV, www.foodnetwork.com is on of my favorite sites to look for recipes. I found 2 great ones this week! We bought these huge wheels of Albacore right off the boat in Ventura Harbor! I could not believe how moist and delicious they were. This was a perfect preparation technique that really enhanced the flavor of the Tuna.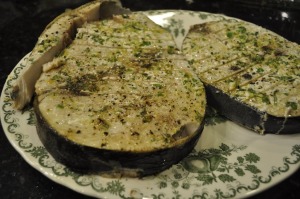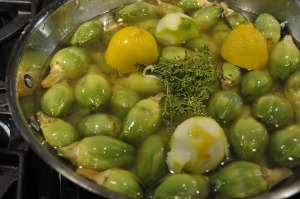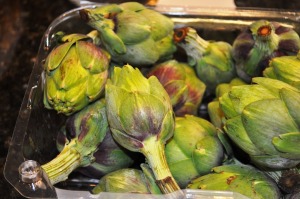 By now, you know how much I love Artichokes! Well, I've never cooked baby ones before & thought it would be neat to try. This recipe is great. I omitted the cheese because I really didn't think they needed it. The delicate Wine, Lemon and Thyme flavors made these a perfect companion to the fish. The leftovers will be great chilled, as well.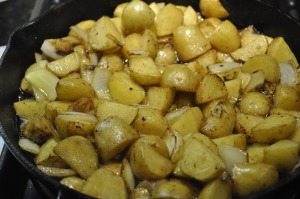 One of the dishes I missed the most in the months we were without a grill are these amazing potatoes my husband makes in a cast iron skillet – the potatoes are crisp on the outside and soft on the inside while the onions caramelize in the high heat and olive oil.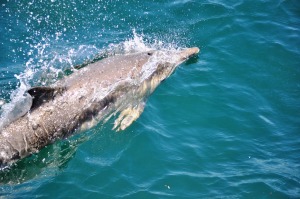 Common Dolphin swimming in Santa Barbara Channel – on our Whale Watching trip!
These recipes are provided for your personal use. If you publish them, or re-post them, please give me credit. Grazie e Buon Appetito!