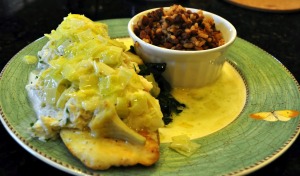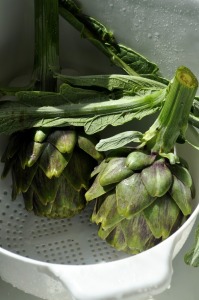 Artichokes from our garden!
John and I visited Charleston for a week in December and fell in love with it. We enjoyed all kinds of food while we were there. One of the best restaurants we ate at was Magnolias. I bought their cookbook and we created this meal from it with fresh Sole we bought right off the boat from Fresh Fish Fanatics at the Channel Islands Harbor.
There are several components to this recipe that involves stacking lots of delicious layers. The flavors are all complimentary to each other. The original recipe calls for Grouper – other than that, we followed the recipe.


We lined our plates with Lemon Leek Butter, then made a bed of Sauteed Spinach, placed the Sauteed Sole on it, topped the fish with Artichokes from our garden, then piled on Creamy Crabmeat. The whole thing was topped off with more of the Lemon Leek Butter.


As you can imagine, this dish was incredibly rich. I think the next time we make it, we'll lighten it up a bit, but it was wonderful.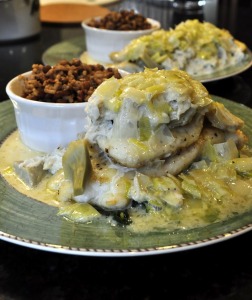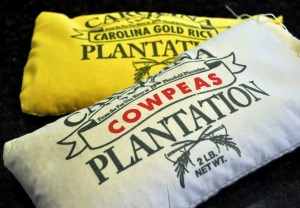 We brought these back from Charleston but they can be ordered on-line.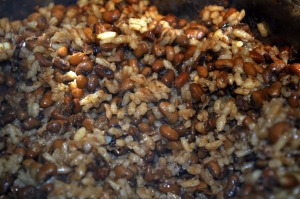 We made a classic South Carolina side dish to accompany this entree. Hoppin' John is a rice dish that's studded with Cowpeas and flavored with ham. It's just delicious – I could have made a meal of this alone!
This recipe is from the same cookbook.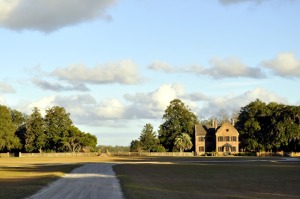 Middleton Rice Plantation, Charleston, South Carolina

These recipes are provided for your personal use. If you publish them, or re-post them, please give me credit. Grazie e Buon Appetito!