This is a great and elegant meal for a weeknight.  It's easy and delicious, and the flavor combination is pure comfort food.  Delicious wine sauce is complemented by the creaminess of the potatoes and the sweetness of the carrots.The potatoes re-heat well and can easily be converted to a main dish with the addition of cubed ham.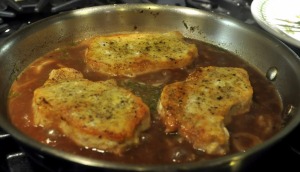 Madeira Pork Chops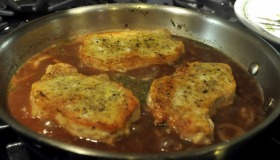 Ingredients
/4 cup Flour
½ teaspoon Herbes de Provence
Salt, Pepper, and Garlic Powder, to taste
3 Tablespoons of Olive Oil
1 Onion, finely chopped (or 1 leek, or 3 green onions, sliced into rings)
½ cup Madeira wine.
1 cup Chicken Broth
Fresh Parsley for garnish
Instructions
Place flour, salt, pepper, garlic powder, and Herbes de Provence in a gallon-size Ziploc bag and shake until thoroughly combined.
Add pork chops and shake bag until they're fully coated (this creates the double advantage of sealing in the flavor and thickening the sauce).
Warm olive oil In a large skillet, over a medium-high flame, heat.
Add the pork chops to the pan.
Cook about 8 minutes per side until white through.
Add finely chopped onion and stir until it begins to soften.
Reduce heat to medium.
Remove Pork from pan and add Madeira wine to deglaze pan.
Then stir in chicken broth.
Continue to stir until sauce thickens.
Return Pork to pan, turning to coat for a few minutes until warmed through.
Place Pork on dinner plates and cover with sauce.
Sprinkle with a little fresh parsley.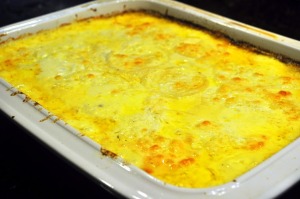 Potatoes au Gratin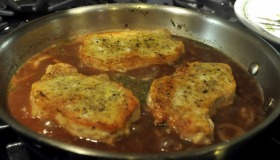 Ingredients
Pre-heat oven to 375 degrees.
½ cup Butter.
½ cup flour
Salt and Pepper, to taste
Pinch of ground Nutmeg
4 cups Milk
4 Russet Potatoes, thinly sliced
1 Onion, thinly sliced
2 cups Cheddar Cheese, grated
½ cup Parmesan Cheese, grated
Instructions
Pre-heat oven to 375 degrees.
In a large saucepan, over medium heat, melt butter.
Whisk in flour, salt, pepper, and nutmeg
When flour absorbs butter, gently whisk in 4 cups Milk.
Stir continuously for about 8 minutes until sauce thickens, then remove from heat.
Spray a 9 x 13-inch baking pan with non-stick spray.
Pour enough sauce in the bottom of pan to thinly coat it.
Thinly slice Russet Potatoes and onion (I used my mandolin for this - even slices ensure even baking).
Add one layer of potatoes.
Scatter sliced onions.
Cover with grated cheese.
Cover with cream sauce.
Repeat.
Cover with foil and bake for 40 minutes.
Remove foil and sprinkle top with grated Parmesan cheese.
Return to oven and continue to bake for 20 minutes, or until potatoes can be pierced easily with a fork.
Allow to set for about 10 minutes before serving.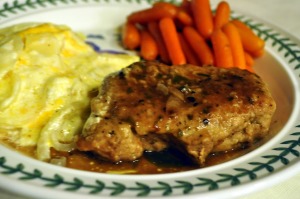 Sweet Carrots
Steam about 24 mini Carrots in an inch of water in a covered pot for 15 minutes.
Strain, and stir in:
3 Tablespoons of Butter
2 Tablespoons Brown Sugar
Salt and Pepper, to taste.
Enjoy!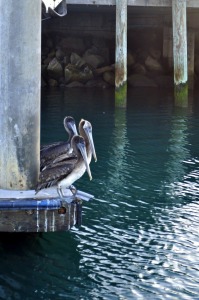 Pelican Trio ~ Channel Islands Harbor, CA
These recipes are provided for your personal use. If you publish them, or re-post them, please give me credit. Grazie e Buon Appetito!