So, this recipe may seem better suited to autumn, but sometimes, you just need comfort food. The subtle wine sauce, full of vegetables, is perfect with pork but would work well with chicken, too.
Madeira Pork Chops with Artichokes, Mushrooms,
and Pearl Onions
In a shallow dish, mix together:
1/2 teaspoon each Salt and Pepper
In a large skillet, over medium heat, saute:
While Garlic softens, d
redge 4 boneless Pork Chops in flour mixture and add to skillet
Reserve remaining flour mix
ture.
Cook Pork Chops about 4 minutes on each side to brown.
Wrap in foil to keep warm.
Deglaze pan with 1 cup Madeira wine.
Stir in 1 cup Pearl Onions (we used frozen ones from Trader Joe's that we thawed in the microwave).
When wine has evaporated, and onions begin to soften, stir in remaining flour mixture, whisking until well-blended.
Return Pork Chops to pan.
8 ounces White Mushrooms, sliced
1 10-ounce package Artichokes, quartered
(we used frozen ones from Trader Joe's that we thawed in the microwave)
1 teaspoon Herbes de Provence
Reduce heat to medium-low and stir occasionally, until sauce thickens, Pork Chops are cooked through, and mushrooms are softened.
Place Rice on dinner plate with Pork Chop and ladle sauce over it.
Herbed Jasmine Rice
Cook 1 cup Jasmine Rice according to package directions, stirring in 1 teaspoon Sunny Spain Seasoning and a pinch of Salt just before covering with lid.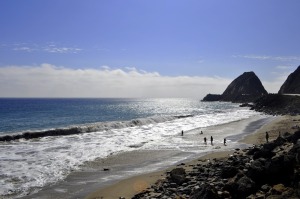 Point Mugu Rock, Pacific Coast Highway, Ventura County

These recipes are provided for your personal use. If you publish them, or re-post them, please give me credit. Grazie e Buon Appetito!