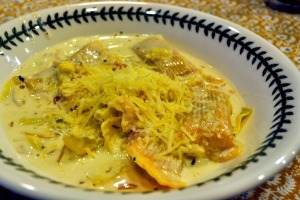 Quick weeknight dinner!
You know those days when work goes longer than you expect, you come home tired, look at each other, and ask, "What's for dinner?" We keep frozen filled pasta on hand especially for those days. It's always interesting to see what kind of sauce we can create from what we have in the pantry. John made short work of this delicious white wine cream sauce which complemented the pasta perfectly.

My blogger friend, David, recently wrote an entertaining post on the kinds of items we all seem to have in our pantries – check it out here. I could totally relate! What's in your pantry?


Prepare one pound of stuffed pasta according to package directions. We used Safeway's Rigatoni stuffed with Feta, Spinach, and Artichokes but you can use any filled pasta you like.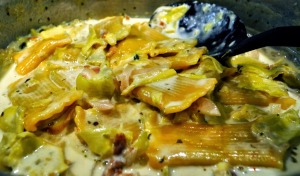 Pasta tossed in sauce
In a large sauce pan, over medium heat, saute:
1 Red Onion, cut in half, then thinly sliced
2 Tablespoons Olive Oil
When Onion is softened, deglaze with 1 cup White Wine
Simmer until reduced by half
Add 1 can Artichokes, drained and cut in half
Sprinkle with 1 teaspoon Pizza Napoli Seasoning (3/4 teaspoon Italian Herbs + 1/4 teaspoon Red Pepper Flakes), Salt & Pepper, to taste
After Artichokes are heated through, add 3 slices Prosciutto, minced.
Stir in 1 cup Cream
Once sauce bubbles, add 1/4 cup shredded Parmesan Cheese.

Fold strained pasta into sauce and top with additional Parmesan Cheese, if desired.
Serve with Salad and Bread.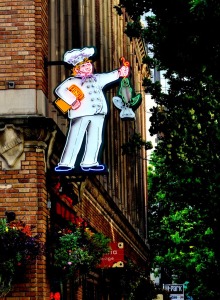 The Dahlia Lounge, Seattle, Washington
These recipes are provided for your personal use. If you publish them, or re-post them, please give me credit. Grazie e Buon Appetito!