We love Mexican food so have become a little braver about trying it at home. Chiles Rellenos are essentially roasted chiles stuffed with cheese, dipped in batter, and fried. They are just delicious on their own, but can also be tucked into Burritos. We topped ours with a little Tomato Sauce and served them with Mexican Rice and Refried Beans. We used Anaheim Chiles but Pasilla Chiles are commonly used as well. This recipe is not difficult but it takes time to make. It's flavorful & delicious without being too spicy.

Turn the broiler on high.
Line a baking sheet with foil and place 6 Anaheim Chiles and one Red Jalapeno on it.
Roast the chiles until they blister and darken (about 5 minutes per side), and use tongs to turn them once, or twice to ensure they are thoroughly roasted.
Set the Red Jalapeno aside to use int he Tomato Sauce.
Using tongs, place the Chiles in a large Ziploc bag and seal it.
Set Chiles aside until cooled.

In the meantime, start the Tomato Sauce.

Using your food processor, finely mince:
1 White Onion
3 cloves Garlic
In a large saucepan,over medium heat, saute the mash in 1/4 cup Vegetable Oil.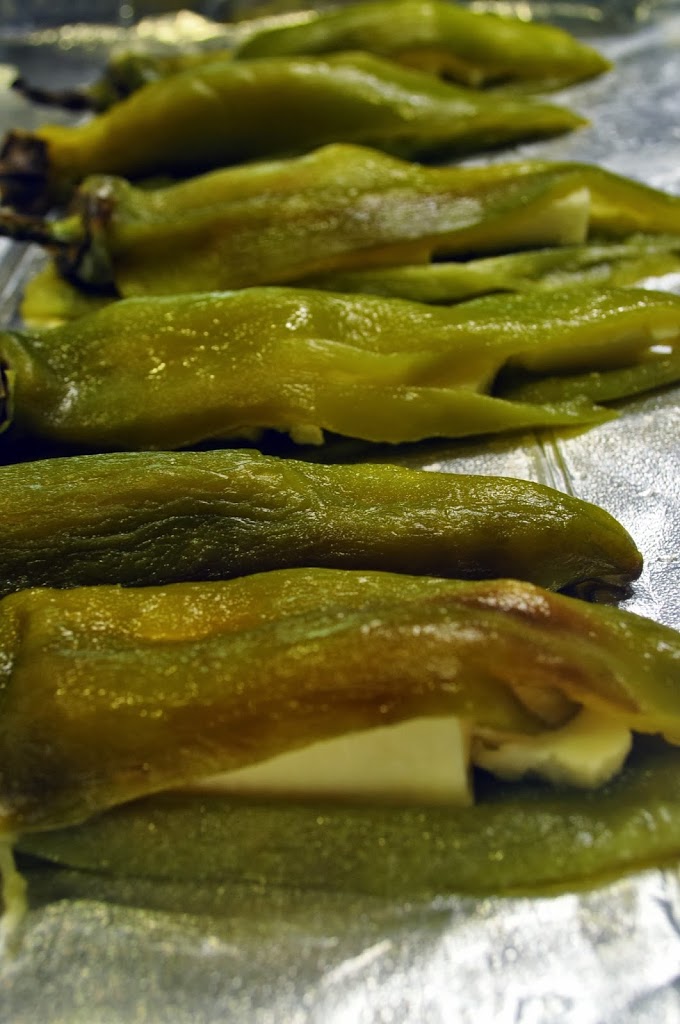 Anaheim Chiles filled with Jack Cheese

While Onions and Garlic begin to brown, replace food processor bowl and puree:
6 Tomatoes
The Roasted Red Jalapeno, skinned, and seeded.
Set puree aside.

Stir 1/3 cup flour into the Onion/Garlic mash until it creates a paste
Then use a whisk to blend in Tomato/Jalapeno puree
When thoroughly combined, stir in:
4 cups Chicken Broth (you can use Vegetable Broth to keep it Vegetarian)
2 Bay Leaves
1 teaspoon Mexican Oregano
A pinch each of: Cinnamon and Ground Cloves
Bring sauce to a boil, then reduce heat to Low and cover, leaving a slight steam vent.

Allow to simmer for an hour, stirring occasionally.
Taste and add Salt and Pepper, as desired.

Pre-heat oven to 250 degrees.
About 15 minutes before the sauce is ready, start the Chiles.
Remove from bag, skin and seed, leaving stems intact.
Place long sticks of Monterey Jack Cheese in the center of each chile.
Wrap chile around cheese, fixing with a toothpick, if necessary.


To make batter, whisk together: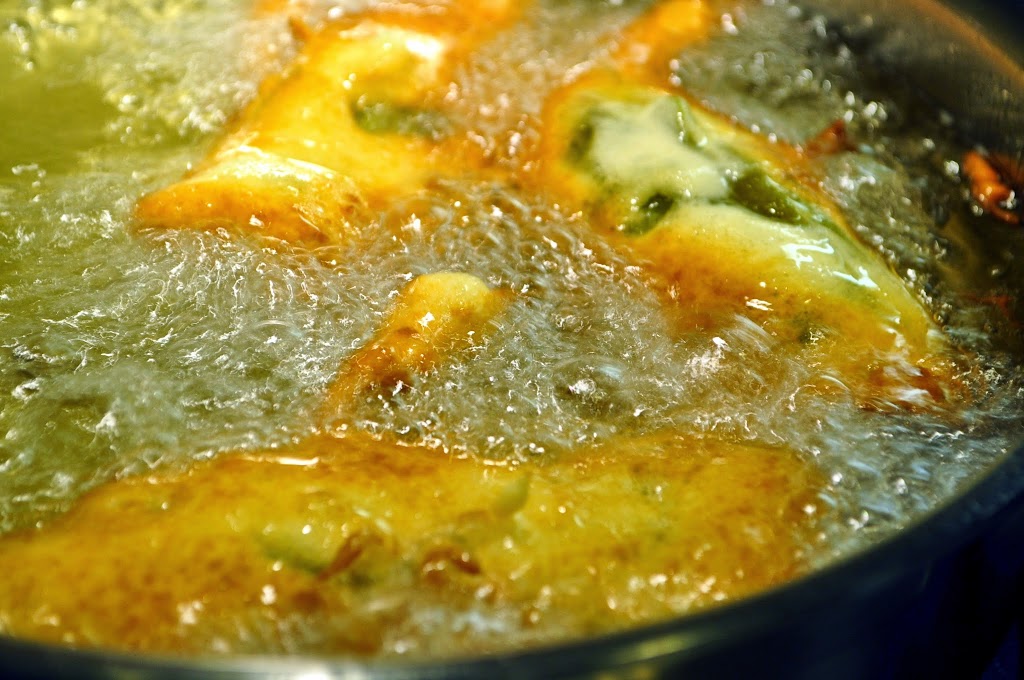 Chiles frying in oil
1 cup Flour
1 teaspoon Baking Soda
1 teaspoon Baking Powder
1 teaspoon Salt

Then add in:
1 Egg
1 Cup Milk
1 teaspoon Vegetable Oil
Whisk until completely combined.

Add 3″ of Vegetable Oil to a deep saucepan.
Heat over medium-high until a drop of batter sizzles and rises.

Dust each stuffed Chile with flour on both sides.
Pour some batter onto a plate and carefully lay the dusted, stuffed chile in it, then pour some more batter on top to fully coat it.
Drop into heated oil and turn to brown on all sides.
They will cook very quickly.
Place them on a tray and put them in the oven to keep warm until all of them are fried, then serve immediately.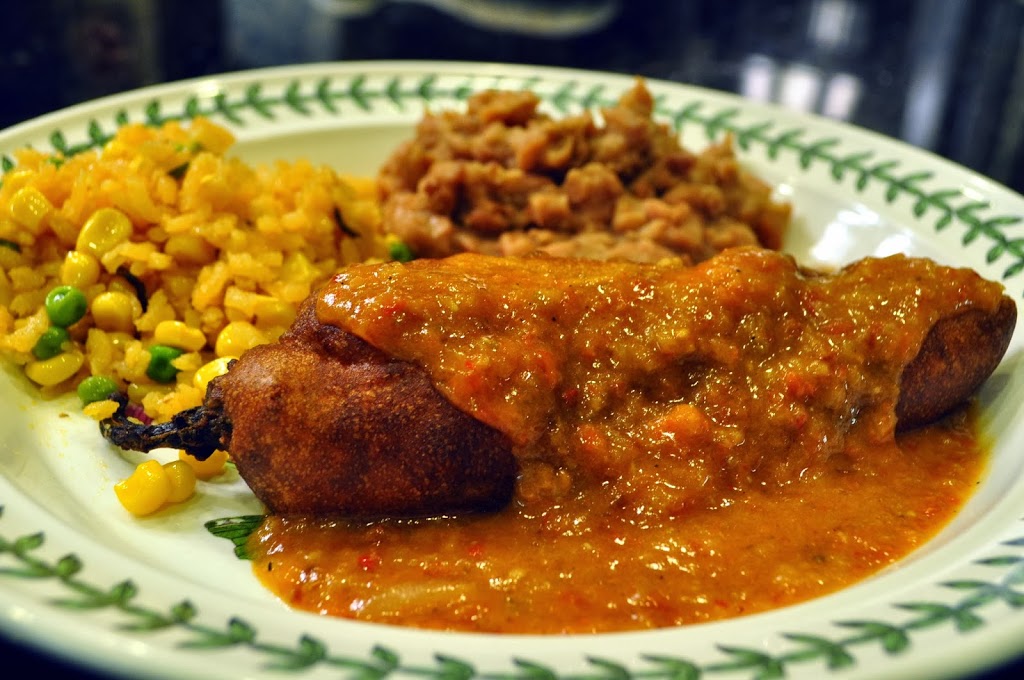 Pool some sauce on each plate, center a Chile Relleno in the middle, then top with more sauce.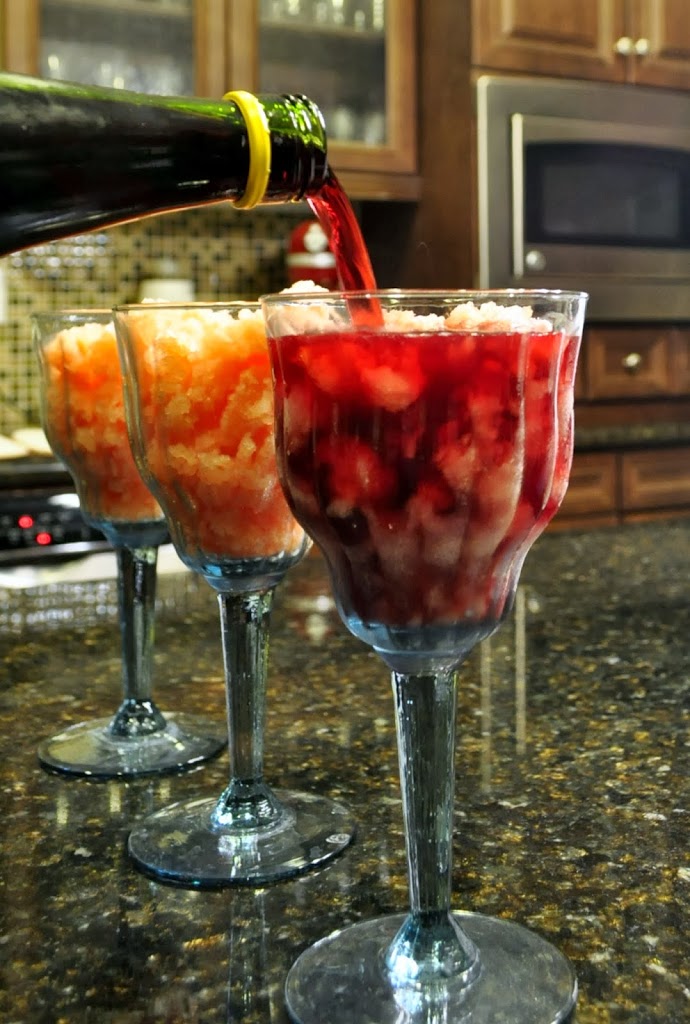 We served these with Mexican Rice, Refried Beans, and Red Sangria over Citrus Granita.

We also had enough Tomato Sauce leftover to serve with fish a couple of days later.


These recipes are provided for your personal use. If you publish them, or re-post them, please give me credit. Grazie e Buon Appetito!