This is second week of the Blog-off sponsored by Hippocrene Books to celebrate the release of Rinku Bhattacharya's second cookbook, Spices and Seasons. Last week, I made Classic Green Mint Chutney, and this week, we made Shrimp in a Mango Basil Sauce. Next week, we'll post a book review and host a giveaway for a copy of Rinku's new book, so be sure to check back to enter for a chance to win!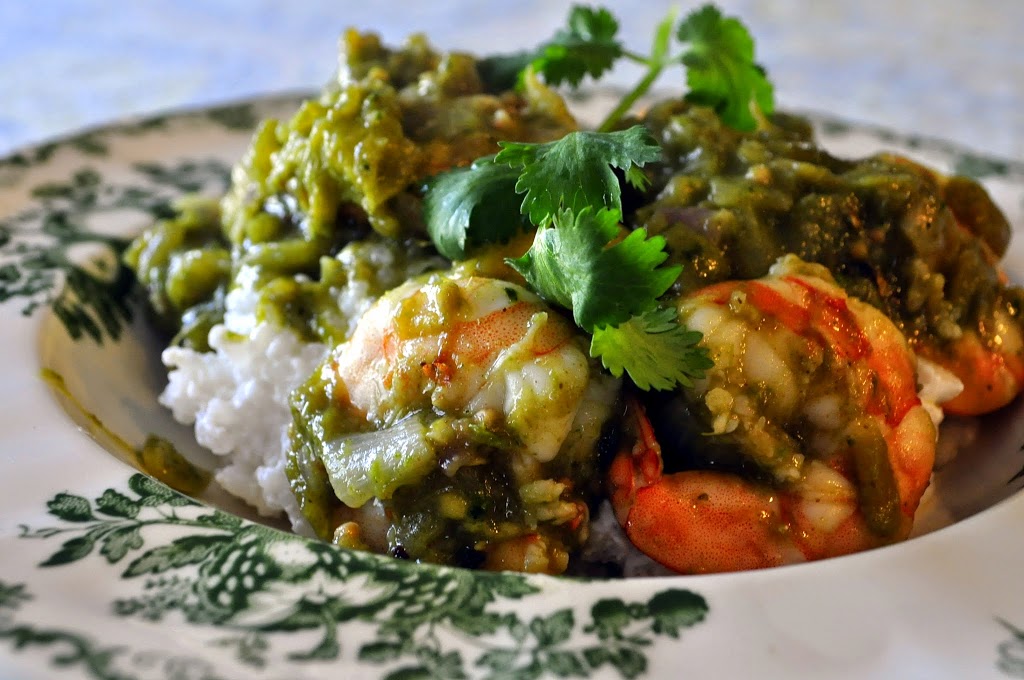 Fresh & fabulous!
Since we had mangoes ripening in our fruit bowl and we love shrimp, we chose Shrimp in a Mango Basil Sauce. I bought lovely fresh shrimp from Fresh Fish Fanatics at the Channel Islands Harbor yesterday and we had this for lunch over coconut rice. It was just delicious! The combination of flavors and textures was so intriguing with each bite revealing another nuance.
Shrimp in a Mango Basil Sauce
Prep Time: 5 minutes (Note: it took me a bit longer because I had to clean the shrimp)
Cook Time: 20 minutes
Serves: 4
Ingredients
2 to 3 tablespoons oil
3/4 teaspoon black mustard seeds
1 teaspoon coarsely ground cumin seeds
1 small red onion, finely chopped
1 tablespoon freshly grated ginger
3 or 4 green chiles, minced
1 pound large shrimp, peeled and deveined
1 ripe mango, seeded and chopped
1 teaspoon black salt
1 teaspoon dried red pepper flakes
20 large fresh basil leaves
1 tablespoon chopped cilantro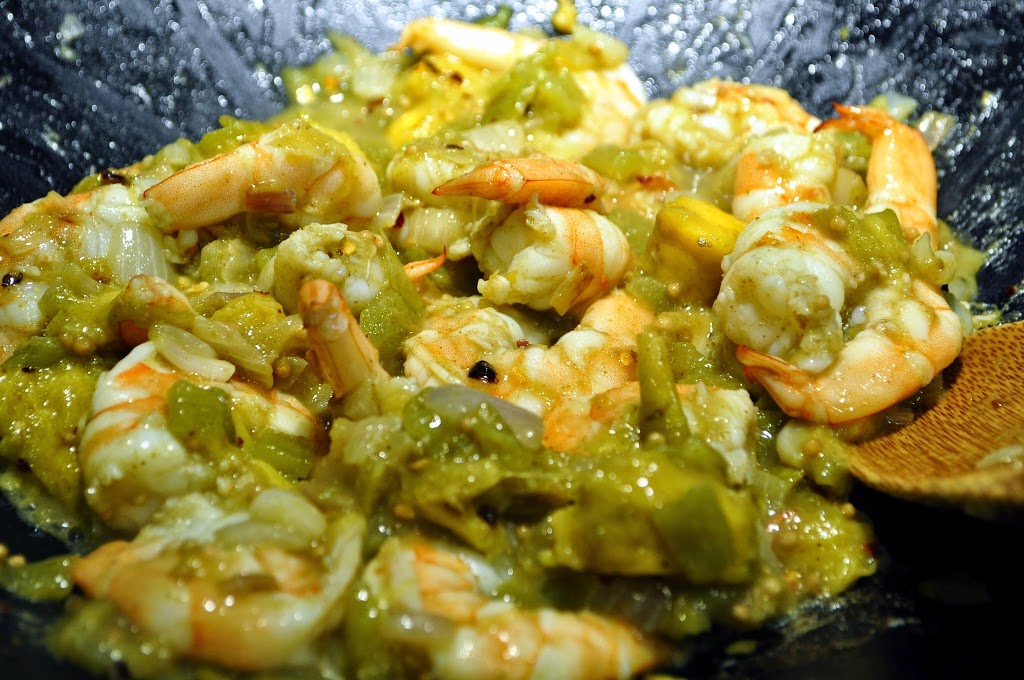 Lovely textures and flavors!
Preparation
1. Heat the oil in a skillet or wok on medium heat for about 30 seconds. Add the mustard seeds and when they begin to crackle add the coarsely ground cumin seeds and red onion and cook for 5 minutes, stirring frequently until the onion is soft and translucent.
2. Add the ginger and green chiles and cook for another minute.
3. Add the shrimp and cook, stirring, for about 3 minutes, until the shrimp change color.
4. Gently mix in the mango, black salt, and red pepper flakes and cook for 6 to 7 minutes, until the mango is somewhat saucy.
5. Stir in the basil and cook for about 1 minute. Garnish with the cilantro and serve immediately.
(This is our recipe, but it's a great match with the shrimp!)
1 cup white rice
1 can Coconut Milk with enough water to make 2 cups
In a medium sauce pan, over medium heat add rice, Coconut Milk, and water, to a boil.
Lower the temperature, and allow rice to simmer for 20 minutes.
Remove from heat, and let sit for 5 minutes before fluffing and serving.

These recipes are provided for your personal use. If you publish them, or re-post them, please give me credit. Grazie e Buon Appetito!